Does the world really need another banana bread recipe? When it's this good, it does. This bread is sweet, rich and comforting whilst still feeling super light and fluffy. 
---
Two of our favourite things are baking and finding creative ways of using food that might otherwise go to waste. Baking vegan banana bread doesn't just satisfy both of those desires, it also yields an irresistible bake.
This nutritious recipe contains our best-selling Chocolate Vegan Protein Blend, making it perfect for a post-workout treat or healthy mid-afternoon snack. Then, it's also topped with Organic Chia Seeds and Oats for a great kick of healthy fats and fibre in every slice.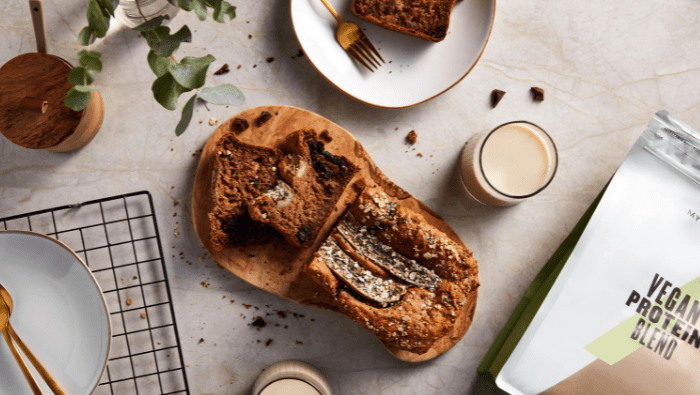 We don't think banana bread gets any better than this, so why not give it a try and see if you think we're right?
High-Protein Chocolate Banana Bread
Ingredients: 
4 ripe bananas

200g self-raising flour

 

½tsp baking powder

 

1 teaspoon bicarbonate of soda

 

1 tablespoon apple cider vinegar

 

126g plant milk

 

75g vegan chocolate

 

60g vegan yoghurt 

 

1 tsp Organic Chia Seeds

1 tbsp of Oats
Method: 
Preheat the oven to 150 degrees.

Mash the bananas,

reserving one for later

and mix the protein powder, baking powder, bicarbonate of soda.

 

Mix in the plant milk, yoghurt and apple cider vinegar.

Chop the chocolate and stir ¾ into the mix and pour into loaf tin.

Sprinkle remaining on top

and slice the remaining banana length ways so you have two long pieces, place on top of the batter and sprinkle over the chia seeds and oats,

bake for 45 minutes.

Leave to cool in tin and then wire rack and enjoy!

 
Like this recipe? You'll love these: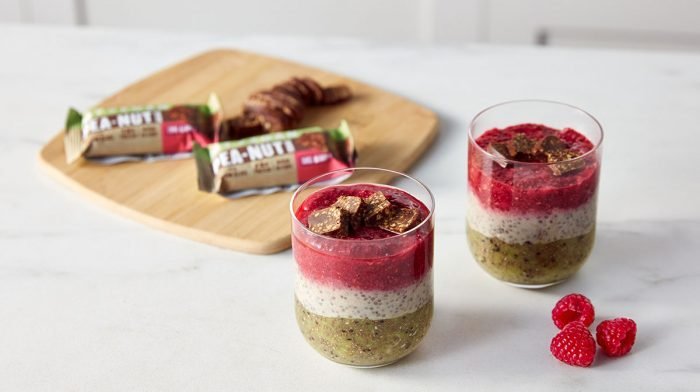 Desserts derailing your diet? Bored of the same old breakfast? Lucky for you, this berry & maple chia pudding will shake things up a bit.