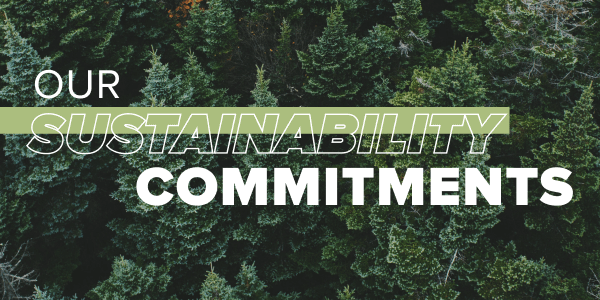 Our Sustainability Commitments
We understand that the environment and sustainability are two crucial facets of veganism. We want to share our sustainability commitments with you, highlighting what we are doing to become a more sustainable brand. We are making it a priority to work hard towards making a positive change and to give back where we can. Explore our 5 key initiatives in the articles below.
Myvegan Sustainability FAQs
Our Clear Vegan Protein tubs, Vegan Protein Shake, Vegan Protein Water, and vitamin pill bottles are 100% recyclable and we are working hard to find sustainable solutions for the rest of our packaging. This includes our bestselling pouches that will be recycle ready by the end of 2021.

We have created a clear plan ensuring that all of our products are packaged in fully recyclable materials by the end of 2023. Additionally, since the end of 2020, all of our cardboard cartons and boxes are sustainably sourced and FSC certified.

Check out our blog posts and social media platforms for tips on how to upcycle your Myvegan packaging and more.

Our Clear Vegan Protein tubs and pill bottles can be put into your general recycling; remember to separate out different materials. We are currently developing a 'how to recycle' guide which will be visible soon on our website regarding the rest of our packaging.

We do understand that recycling logos can be quite challenging and confusing – in order to minimise this, we have written an educational article with simple explanations. Find out more here

Yes, we definitely do. We are the world's 1st plastic neutral sports nutrition brand. Through partnering with rePurpose Global, we are funding the removal of plastic waste from the environment. By the end of 2021, we will reduce our sample box size by 50% and make scoops optional, reducing waste. By 2023, our packaging will be 100% recyclable or reusable.

We are always looking at revisions to our packaging to make improvements wherever possible including reduction of packaging weight as well as use of new materials.

One of the biggest issues impacting the environment at the moment is plastic waste. As part of our work with rePurpose Global to become a plastic neutral brand we have reviewed the annual plastic footprint of our products, and supported the removal of the equivalent weight of plastic from the environment.

As a vegan brand, the carbon footprint of the ingredients we select for our products is lower than alternatives containing animal-derived ingredients. This is also true for the land use and water use required to grow crops such as pea and soy for our protein powders.

By going Plastic Neutral with rePurpose Global,we are dedicating a % of each product we sell to fund the removal and reuse of the same amount of plastic from nature that we use in our packaging. With Plastic Neutrality, we are proud to offer our products with a Net Zero Plastic Footprint.

We are currently working hard to find effective ways we can reduce food waste from expired stock and discontinued products. We will keep you updated with future partnerships.

A carbon footprint is the amount of greenhouse gases released into the atmosphere by a specific human activity. The carbon footprint of our products relates to the cultivation and manufacture of the raw materials, manufacture of the final product and delivery to the customer.

Since April 2020, we started harnessing renewable energy (including solar and wind) to power our warehouse and production facilities in order to reduce our carbon footprint.In addition, due to the plant-based ingredients in Myvegan products, the carbon footprint is inherently lower than many alternative products.

Sustainably sourcing materials is an essential learning practice for us and taken very seriously within our supply chain. This is why our suppliers are taking important steps such as reducing waste and water.

Sourcing Palm Oil

Palm oil is an incredibly efficient crop, producing more oil per land area than any other equivalent vegetable oil crop. It is also very important for the livelihoods of a huge number of people in developing nations.

Despite this we recognise the contribution palm oil can have to deforestation.However, by refusing to use palm oil and moving to alternative oils, the overall land use required is even greater and risks further deforestation. We believe the best solution is to ensure that any palm oil we use in our products is sustainably sourced, and does not contribute to deforestation.

In our products we use minimal levels of palm oil, and when we do, we only source from RSPO certified suppliers.

Sourcing Soy & Pea

Soy and Pea protein for human consumption are considered to be inherently sustainable crops due to their lower land and water footprint. We keep a close eye on the sustainability of our ingredients and will take action if we become aware of any issues in our supply chain.